Capitalizing on Poorly Zoned Land
Land that is zoned without a building entitlement and poorly marketed are great opportunities to re-marketed with actual legal uses.

These properties attract poor demand and buyer enquiry unless the consumer is made fully aware of its legal uses. So don't be afraid to look outside the box and capitalise on the land by correctly knowing legal uses :
Shipping container ( NSW)

Power, water connections

Levelling a site

Some shelter

Caravan ( Days allowed will vary with each local Government Shire )

Clearing land

Building a shed ( Size will vary in each state, NSW 50m/2, Vic 10m/2)

Fence

Vegetable patch

Livestock

Relocatable building ( will vary with each Shire)
Each state has its own planning laws in relation to use and also by-laws in relation to caravan uses, and the above list is an example of these exemptions.

When surrounding land values with dwellings are high and expensive, entry into the property market can very difficult for some people, particularly in sort after locations ( close to the sea, shortage of land availability, close to a major capital city ).

As a general rule and guide, it is difficult to value or appraise these land parcels. 20-30% of the value of land that has a dwelling entitlement of the same size as a base to start from. Real estate agents find it hard to value these properties as well and can be marketed below their full potential value.

REDA website categories that can help you find these type of properties:
Examples of case studies of completed property acquisitions we have completed using this strategy are:
Afterlee NSW ( Kyogle local Government Sale of land unpaid rates 2018)
Acquisition : Paid $1,500 5 lots on 1 parcel : lots 16,17,19,20,21 ( solicitor split titles)
Zoned rural: No dwelling entitlement sizes varied from 50 m/2 to 1500 m/2
Sale Results: Each lot was remarked with legal uses and resold for $10-12,000 each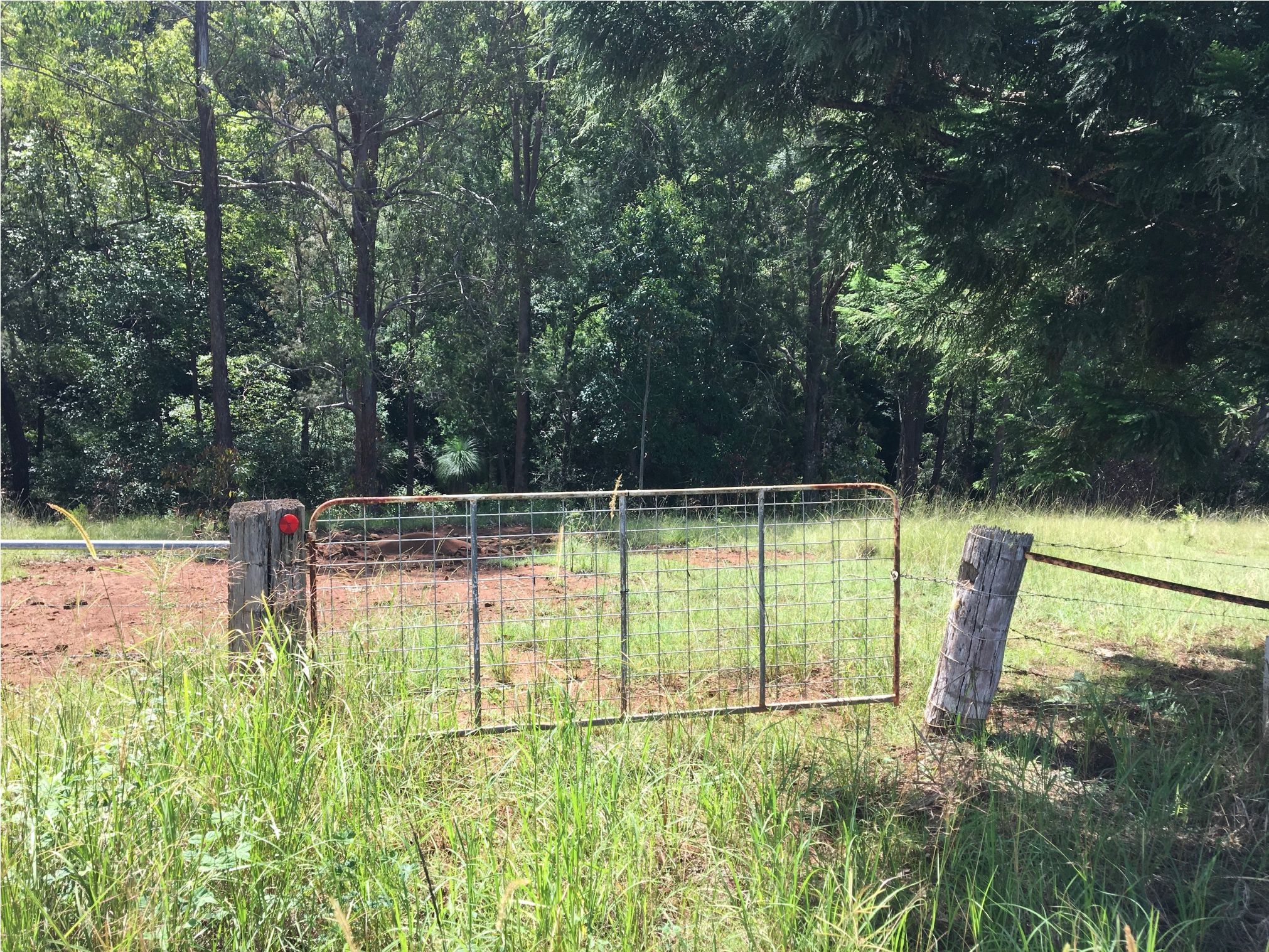 Peak View NSW ( Cooma local Government Sale of land unpaid rates 2016)
Acquisition : Paid $3,500 2 lots on 1 contract : lots 9 and 20
Zoned rural: No dwelling entitlement 4.3 acres
Sale Results: Was re-marketed with legal uses and resold for $25,000?
(Illustration is from the internet sold history 08/03/2016)
15 View hill ave, Hollands landing Vic
( Acquisition purchase multi lots category 2013)
Acquisition : Paid $6,000 5 lots on 1 title : lots 1,2,3,4,5 ( solicitor split titles)
Zoned farming: No dwelling entitlement each lot was 600 m/2
Sale Results: Each lot was re-marketed with legal uses and resold for $5,000 each total. $25,000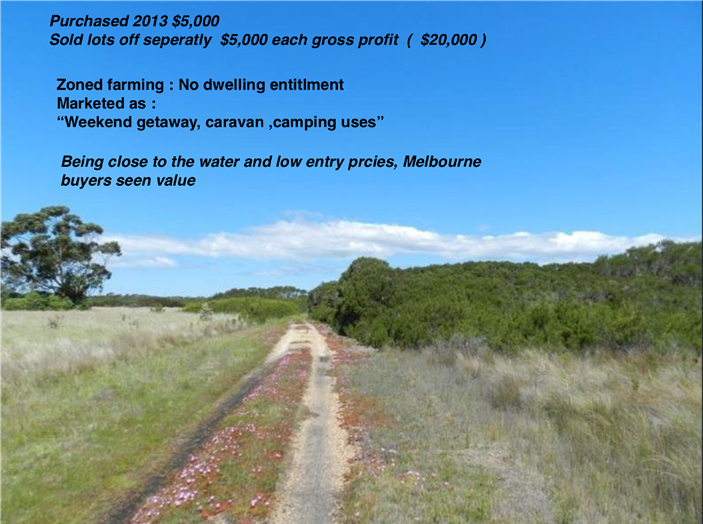 Don't be discouraged by rural, farmed zoned lots !! These lots have value as seen above and can be very profitable.
Multi lots/ double blocks category is great for these parcels of land.
Vendors most times with these zoned blocks and other blocks will sell in ( in one line), meaning 2,3,4,5,6 etc lots as a whole, because they cannot be bothered selling them separately. It is as simple as that !!!
Banks are wary to lend on these lots as it is risk security, so best to have cash funds available or very low LVR ( loan to Value ratio) 50% or more.
Recreational land like this is very attractive because of the low price entry into property close to capital cities, due to high land prices of building blocks. These blocks can be very hard to resell if you price them too high and you want to be too greedy, so it's best to price them conservatively lower than other blocks in the same suburb, to make them attractive value to the consumer. So your purchase price should be assessed correctly to make sure there will be enough margin profit in the acquisition.
Seen below a deal we completed in Vic, the vendor just wanted to sell as a whole to make it easier for themselves, thus not allowing the property to reach its full realised market value. We did our homework and found recent comparable sales similar to lots up the road, that sold the same year $220-240,000.
Crown Allotments 1,11,12 Honeysuckle Rd, Vic 45 mins from Melb
( Acquisition multi lots category 2020 )
Acquisition : $380,000 3 lots on 3 titles
Zoned Farming: No dwelling entitlement each lot was 20 acres approx. Potential planning permit, sheds allowed, power available
Sale Results : Each lot was re-marketed with legal uses $220,000 to $260,000 each Total $660,000
Do you're homework and due diligence key points to remember :
Research recent comparable sales for the same year and same street.

Check available services ( power, water, sewer, telco).

Make sure you have cash or excellent equity for purchase.

Ring local agents to get feel for demand in the area.

Make sure there is a margin in it from the purchase price.

Be prepared for a long time to sell them.

Resell price should be lower than other comparable blocks.
At the end of the day, it's our belief that you make a profit when you buy, not when you sell !!!.

There are many multiple allotments on the market, and in some of them the numbers don't stack up. The more you research you're State and Area, the more educated you will be as to what best blocks will be able to turn around and make a profit.